CAREERS
Interested in matching your career to your job? Want to mix cutting-edge technology with challenging and rewarding work assignments? ProObject has immediate openings for a range of technical positions, from Apprentice Level all the way to Principle Level. Explore our career opportunities below and learn why ProObject is the right choice if you're looking to build a career, not just a job.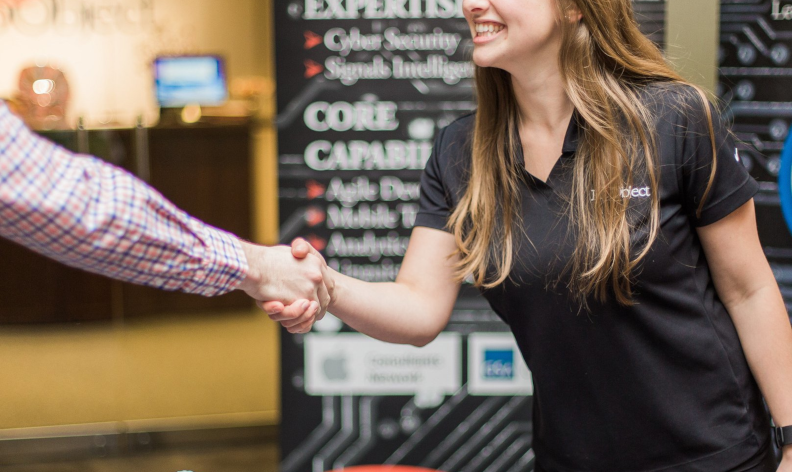 In fact, professional development and career growth are so important to us that we provide 100% paid technical training and 100% tuition reimbursement.
Our comprehensive and competitive benefits program is just part of what separates ProObject from other contracting companies in the federal and commercial spaces. Explore our current career opportunities and submit your resume when you're ready to apply.
LOCATIONS
Ft. Meade, MD Area | Columbia, MD | Germantown, MD | Gaithersburg, MD | San Antonio, TX
REQUIREMENTS
TS/SCI with Polygraph
ProObject has a diverse set of opportunities that offer career growth and advancement. Due to the mission-critical nature of our work, we require full security clearance with polygraph for the majority of our positions.
SOFTWARE ENGINEER Apprentice, Junior, Mid, Senior, Principal openings available
UI Developer, JavaScript Developer
Mobile App Developer
CNO Programmer
Java Developer
Front-end Developer
Back-end Developer
Linux, Splunk, Python, XML Developer
C++ Developer
Linux, Perl, Python, Java or C or C++ Developer
Cloud infrastructure Developer
High Performance Computing (HPC) Engineer
CNO Programmer (C, C#, C++)
Database Engineer
SYSTEM ADMINISTRATION
Apprentice, Junior, Mid, Senior, Principal openings available
Tier 1 Help Desk
Tier 2 Help Desk
Data Center Technician
Implementation, troubleshooting and maintenance of IT system
INTEGRATION & TEST
Apprentice, Junior, Mid, Senior, Principal openings available
Software Test engineer
Cloud Test Engineer
CNO Test Engineer
COTS/GOTS Integration Engineer
Software Integration Engineer
SYSTEM ENGINEERING/SYSTEM ANALYST
Mid, Senior, Principal openings available
Design and Architecture
DevOps
Cloud 5G Engineer
Cloud Engineer
System Security Engineer
Business Process Engineer
UI/UX & WEB DEVELOPER
Apprentice, Junior, Mid, Senior,  Principal openings available
Design and create web sites
Front-end developer
User Experience Designer
UI/UX designer
OTHER OPENINGS


Configuration Manager
COTS Technology Expert
Data Scientist
ISSO
Research Scientist
Technical Writer
JOB OPENINGS
Explore some of our job opportunities and submit your resume on the job's details page form today.
Our team at ProObject has a passion for technology and is committed to solving technical challenges for our clients. We truly care about our employees, their careers, and their families. We offer best-in-class training and mentorship to enable our employees to continually grow in their careers. ProObject supports our employees and their families with exceptional benefits and flexibility.
RETIREMENT
401K with 6% match, 100% immediately vested
TRAINING
Training up to $5,250 & 40 hrs. of paid training per yr.
Reimbursements for advanced degrees
Classroom training
On-demand training
Conferences
AWS cloud certifications
DoD 8570 certifications
PMI certifications
MEDICAL, DENTAL, VISION, FSA, HSA
Individual and family coverage with multiple options to fit your needs

Health insurance with an affordable plan 95% employer supplemented

Flexible Spending Accounts (FSA) and Health Savings Accounts (HSA) 

Employee Assistance Program (EAP)
INSURANCE
Company-paid basic

 

life insurance

Voluntary a

dditional life insurance
AD&D

Company-paid s

hort-term disability

Voluntary l

ong-term disability
PAID TIME OFF
Vacation leave
Sick/Personal leave
All 11 federal holidays
Bereavement leave
Jury duty leave
Training days
Military leave
Benefits You Don't Expect
BONUSES
Annual bonuses for employees that meet billable hours targets
Spot bonuses

Employee referral bonus program – $10,000 for each cleared technical hire
GREAT PAY
Every hour worked (over 40hrs) is an hour of vacation time earned

Employer profit sharing contributions
HOURLY PAY OPTION
Better pay rate and flexibility for time off
CHARITABLE GIVING
100% matching up to $500
LEGAL SUPPORT
Attorney fee coverage
Will preparation
PET INSURANCE
Coverage for your four legged friends
WELLNESS
Onsite gym facility
Merritt Gym memberships
Awards
The Baltimore Sun has named ProObject a Top Workplace in 2015, 2016, 2017, 2020, and 2021.
The Baltimore Business Journal (BBJ) rated us as one of the Top Cyber Security Firms in Baltimore in 2015, 2016 and 2017.
Top Cyber Security Firms in Baltimore in 2016 and 2017.
The BBJ has also ranked ProObject as a Top Software Development Firm in 2016 and 2017.
Opportunity
Professional association memberships
Participate in working groups
Access to professional books and journals
Become a part of the ProObject community
Engage with members of the DoD and Intelligence Community
Help our country dominate our adversaries—one app at a time
Training
Advanced Technical Training
Seminars & Conferences Focused on Leading-Edge Technologies
Technical Certifications
Degree Programs