ProObject builds mission-critical systems that defend networks from attack and deliver greater Intelligence for our Nation. We are a Women Owned Small Business with a history of delivering outstanding service to the Intelligence Community, Department of Defense, Federal Government, and select Commercial clients.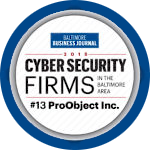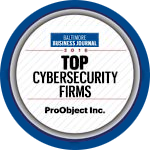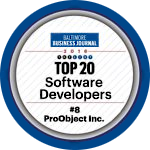 AGILE DEVELOPMENT
Our Certified Scrum Masters work side by side with clients to ensure successful adoption of Agile methodologies. ProObject Agile engineers increase velocity and productivity, delivering results to clients "early and often."
CYBERSECURITY / ENTERPRISE IT
Our expert engineers provide defensive and offensive cyber solutions, deliver robust IT infrastructures, and defend networks against cyber attacks. Our security professionals ensure compliance with NIST Risk Management Framework (RMF) and future Cybersecurity Maturity Model Certification (CMMC). We provide DoD 8570-certified staff to install, configure, maintain, and enhance secure enterprise IT infrastructures.
SIGINT / CNO SOLUTIONS
ProObject's systems engineers deliver signals intelligence (SIGINT) and computer network operations (CNO) capabilities to allow our clients to execute their missions and keep our systems 100% operational. We bring expertise in computer network defense, computer network exploitation, vulnerability research, reverse engineering, and testing of mission applications.
CLOUD COMPUTING / DATA ANALYTICS
Our systems engineers provide strong technical thought leadership capabilities that enable business transformation to the Cloud. We develop Data Analytic capabilities to provide real-time Situational Awareness and Decision Support for Mission Managers, enabling cyber decisions to be made at mission speed.
MOBILE APP DEVELOPMENT
We build cross-platform and native mobile apps for Android and iOS platforms. Our team of certified experts develop and integrates essential enterprise services, delivering the mission- driven applications that enable connectivity, communication, and collaboration across the global Intelligence Community.
ADVANCED RESEARCH
ProObject is at the forefront of emerging language technologies in Video, Image, Speech, and Text Analytics research. Our linguistics researchers provide quality human language services in support of our clients' research, development, and operational activities using our Linguists on Demand™ approach.
ProObject provides exceptional talent with expertise in Agile Development, Analytics, Software Engineering, Systems Engineering, Web Development/User Experience, Mobile Application Development, Cyber Security, Enterprise IT, and Language Analytics Research.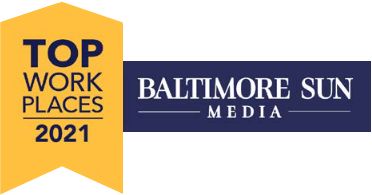 Top Cybersecurity Firm Top Software Developer
Our team at ProObject has a passion for technology and is committed to solving technical challenges for our clients. We truly care about our employees, their careers, and their families. We offer best-in-class training and mentorship to enable our employees to continually grow in their careers. ProObject supports our employees and their families with exceptional benefits and flexibility.
RETIREMENT
TRAINING
MEDICAL, DENTAL, VISION, FSA, HSA
INSURANCE
PAID TIME OFF
Benefits You Don't Expect
BONUSES
GREAT PAY
HOURLY PAY OPTION
CHARITABLE GIVING
LEGAL SUPPORT
PET INSURANCE
WELLNESS
Ready to Discover More? Speak with our Recruiting Team
   TESTIMONIALS
"I can count on ProObject to do the work skillfully, to satisfy our client's needs, and to get the job done. They're a valuable asset to our team."
–Operations Lead, Large System Integrator
"A major contributor to the extremely successful completion of the VE Program, ProObject achieved full operational capability and met (in some cases exceeded) all requirements. It was completed ahead of schedule and significantly under budget."
–VE Program Manager, Large System Integrator
"ProObject personnel have been doing outstanding work as lead system engineers. They're proactive, detailed, meticulous, and independent, and have proven to be the go-to people to get complex problems solved when working with multiple external teams. We couldn't imagine success without their outstanding efforts."
–Program Lead, Large System Integrator